What is an Employee Performance Review?
An employee performance review is a formal assessment conducted by supervisors or managers to gauge an employee's performance against predefined criteria and expectations. Their primary goals are to provide clarity, recognize achievements, and identify opportunities for improvement. In addition to fostering growth and enhancing productivity, managers use them to promote a culture of continuous improvement in the workplace.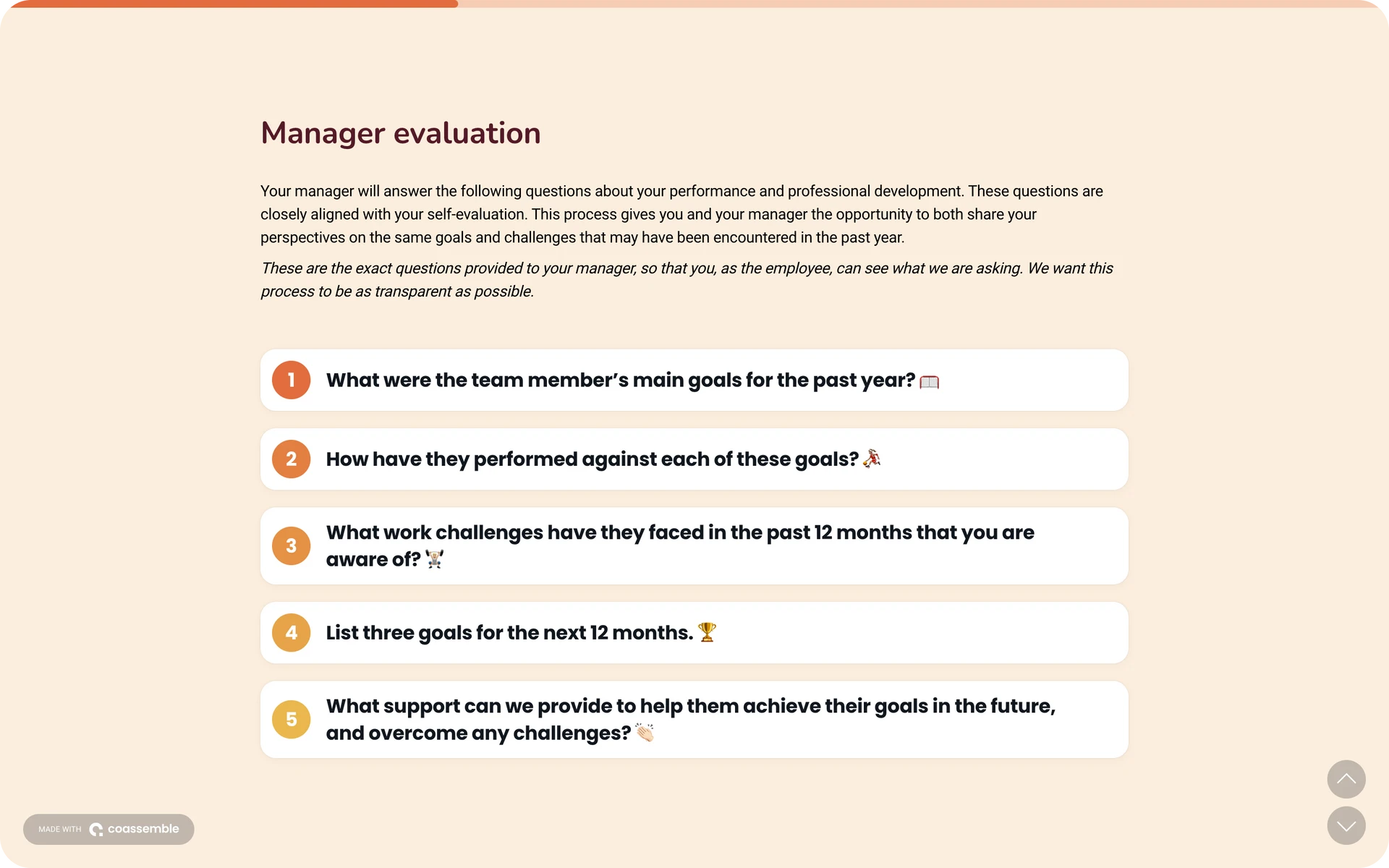 The Importance of Employee Performance Reviews
Employee performance reviews are critical for several key reasons:
Fosters Goal Alignment
Performance reviews help align employee goals with organizational objectives. When employees understand how their efforts contribute to the company's success, they are more motivated to excel in their roles.
Facilitates Feedback and Development
Regular feedback through performance reviews allows employees to understand their strengths and areas for improvement, enabling them to grow professionally and contribute more effectively to the organization.
Enhances Recognition and Morale
Acknowledging employees' achievements and contributions during performance reviews boosts morale, enhances job satisfaction, and fosters a positive work environment.
Increases Employee Retention
Engaging in meaningful performance discussions demonstrates that the organization values its employees' growth and development, increasing the likelihood of retaining top talent.
How Employee Performance Reviews Benefit Your Organization
Employee performance reviews are a cornerstone of success, offering numerous advantages that ripple through every aspect of your organization's operations such as:
Improved Productivity
By addressing performance issues and setting clear expectations, performance reviews lead to improved employee productivity and efficiency.
Enhanced Communication
Performance reviews facilitate open communication between managers and employees, encouraging the exchange of ideas and concerns.
Talent Development
Identifying employees' skills and potential during reviews enables organizations to create targeted development plans that nurture talent and leadership.
Performance Management
Performance reviews serve as a basis for making informed decisions about promotions, bonuses, and performance-based incentives.
How Employee Performance Reviews Benefits Your Employees
Employee performance reviews are not just a management tool; they are also a valuable resource that empowers individuals to thrive in their roles and achieve their professional aspirations.
Personal Growth
Performance reviews provide employees with insights into their strengths and weaknesses, empowering them to develop new skills and achieve personal growth.
Clear Expectations
Through performance feedback, employees gain a better understanding of their roles and responsibilities, leading to improved job satisfaction.
Career Advancement
Identifying areas for improvement in performance reviews enables employees to work towards career advancement opportunities.
Motivation and Engagement
Recognition of achievements during reviews boosts employee motivation and encourages higher levels of engagement.
Key Elements of an Employee Performance Review Template
To ensure an effective and comprehensive employee performance review, it's essential to have a well-structured template. Use an authoring tool like Coassemble to build out your template, ensuring the following elements are covered:
Beyond evaluation
Employee performance reviews are an indispensable tool for organizational growth and employee development. By providing valuable feedback, recognizing achievements, and identifying areas for improvement, performance reviews foster a culture of continuous improvement and drive productivity.
Using Coassemble to create a well-structured performance review template ensures consistency, transparency, and fairness in the evaluation process, setting the stage for a successful and thriving workplace.