Onboarding made simple: crafting the perfect onboarding plan template
Effective onboarding is much more than just introducing your new hire to their team members. A good onboarding process will comprise several steps that can involve many other stakeholders in your organization and lots of important paperwork. An onboarding plan template not only helps you ensure the process of employee integration goes smoothly, it is also a time-saving device that will make it easy for you to integrate any subsequent new joiners.
Creating an onboarding plan template involves careful consideration of the key elements that should be covered during the onboarding process. Here's a step-by-step guide on how to create an effective template using Coassemble: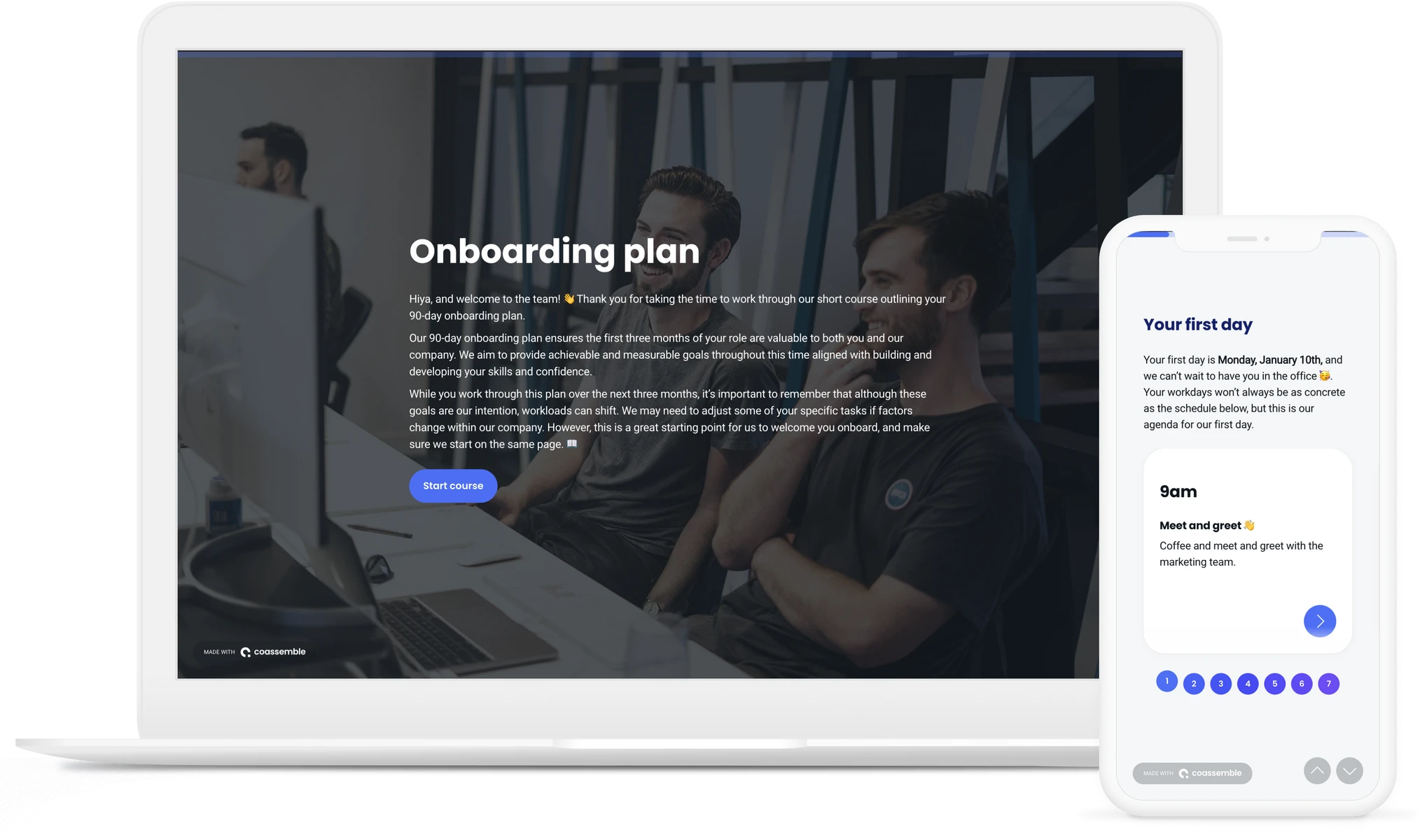 Step 1: Define onboarding goals
Onboarding goals are designed to help new hires integrate smoothly into their roles, understand your organization's culture, and become productive employees. What do you want them to achieve during their initial days or weeks here? The goals could be as simple as understanding (and contributing to) team dynamics or participating in learning and development opportunities such as courses relevant to your hire's role.
Step 2: Conduct welcomes and introductions
A successful onboarding process starts with a warm and enthusiastic welcome, setting the tone for an exciting journey ahead. You want your hire to feel like they've made the right decision to join your organization. Kick things off by introducing your new hires to your organization's heart and soul: its mission, values, and culture. They will quickly connect with the bigger picture and see how their role aligns with your organization's shared goals.
Next, introduce them to the fantastic folks they'll be working alongside, including their direct managers and other key stakeholders. This introduction isn't just about names and titles — it's also about building connections and creating a sense of belonging. We also suggest planning team-building activities to help the new hire further connect with their colleagues.
Step 3: Provide job role overview
Provide the employee with a comprehensive understanding of their role within the organization. This step is important as it ensures that they're aware of their responsibilities, tasks, goals, and expectations right from the beginning. This may involve:
Giving a detailed job description:
This document should cover both day-to-day duties and any special projects they might be involved in; and
Detailing performance metrics:
Explain the indicators used to assess success — this will help the employee focus on what matters most and strive for excellence.
Step 4: Set up training and development
Your hire should be equipped with the necessary skills, knowledge, and resources to perform their job effectively and to support their continuous growth within the organization. List the specific training sessions the new hire will attend; they may range from organization-wide sessions such as process overviews and product familiarization sessions to more in-depth role-specific training.
Step 5: Outline company policies and procedures
Familiarize the employee with the rules, guidelines, and protocols that govern your organization's operations, conduct, and expectations. In addition to covering expected behavior and ethical standards, ensure topics such as work hours and leave policies are also included.
To make it easy for your hire to find all relevant policies and procedures in one spot, compile them all in an employee handbook using an authoring tool like Coassemble.
Step 6: Introduce workplace tools and technology
Introduce your new hire to the tools, software, and equipment they will use to perform their jobs. Help them set up their devices and provide access to necessary accounts and platforms relevant to their role. You should also offer information on who to contact for technical support and troubleshooting, in case of software or hardware issues.
Step 7: Establish check-in meetings
Schedule regular meetings with the new hire to assess their progress and address any concerns. Serving as opportunities for open communication, feedback exchange, and progress assessment, these meetings can be conducted between the hire and the HR manager or their direct manager.
Step 8: Offer additional resources and support
A good onboarding program includes offering extra assistance beyond the essential training and information needed for the hire's job role. For example, most new hires appreciate being assigned a mentor or buddy for one-on-one coaching or being offered enrollment in skill development programs that align with their role and aspirations for professional growth.
Step 9: Conduct final review
It's time to meet with the new hire to gather feedback on their onboarding experience. You can gather feedback via a post-onboarding interview or through a survey — this feedback can then be used to improve the onboarding process for future hires. You may also wish to consider the following metrics:
Time-to-productivity:
Measure the time it takes for new hires to become fully productive in their roles. Is it the same as other new hires?
Employee retention:
Track the retention rate of employees who completed the onboarding process compared to those who didn't.
Manager feedback: Seek feedback from managers about the preparedness and effectiveness of the new hires.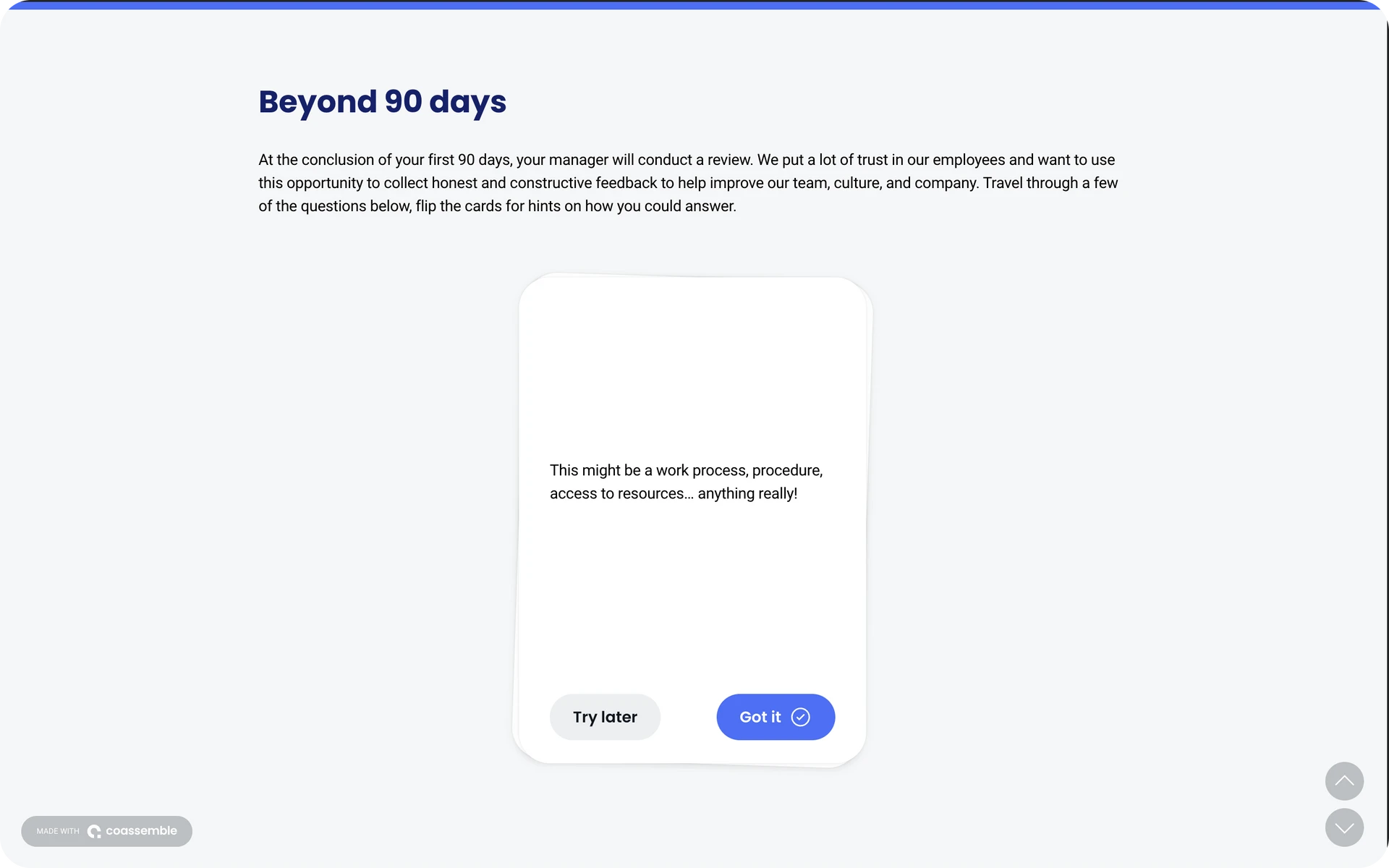 Put your onboarding plan template together with Coassemble:
Ready to create your onboarding plan template? Let us show you the way:
Remember, an effective onboarding plan should be well-structured, engaging, and aligned with your organization's goals. Circumstances may change from time to time, so it's important to regularly review and update your plan to improve its effectiveness over time.