A world class LMS with the power of content creation
Made for fast moving teams wanting to transform existing materials into powerful learning experiences across their organizations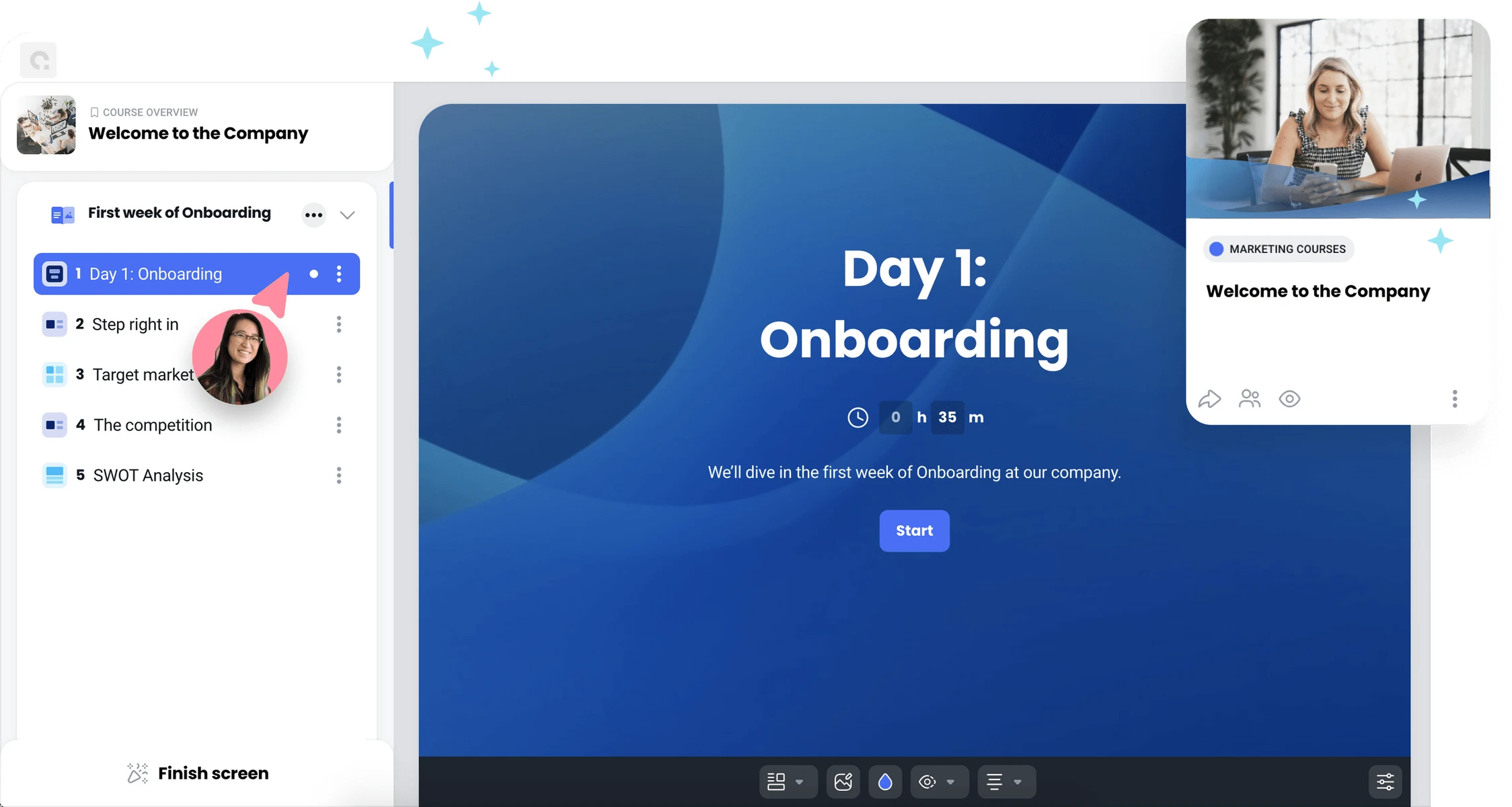 Transform your content
Coassemble's award winning course creation tool, available as standard in all plans, allows you to quickly transform existing documents, presentations and outdatede-learning into powerful, mobile responsive learning experiences.
Content Creation
The number #1 (rated by us) learning creation tool in the market, with over 25 templates crafted by our designers and loved by over 10,000 content creators who value, fun, and engaging course experiences.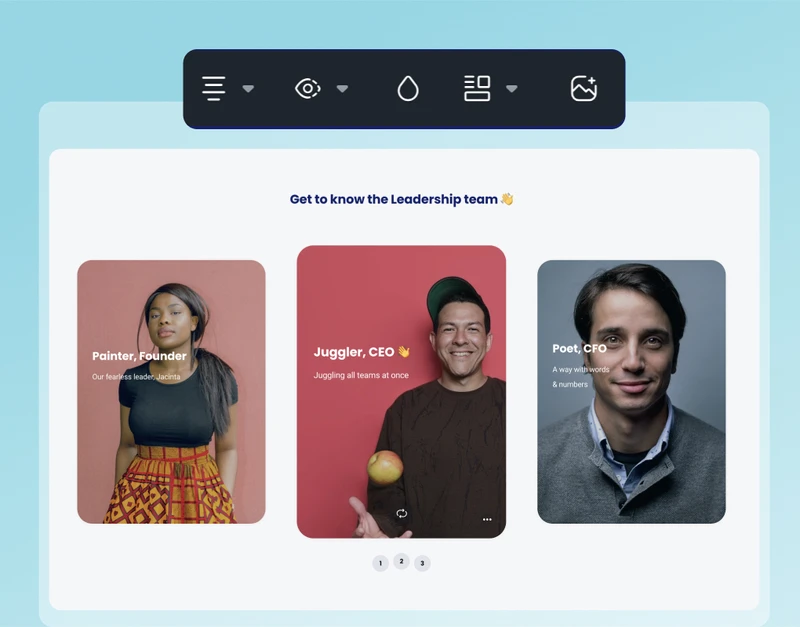 Learner Experience
Tired of outdated e-learning, bland, and boring experiences that don't excite learners? Fully mobile, WCAG compliant, hyper interactive and gamified—Coassemble courses pack a punch to boost engagement + retention. Create personalized learning pathways, issue shareable certificates and more!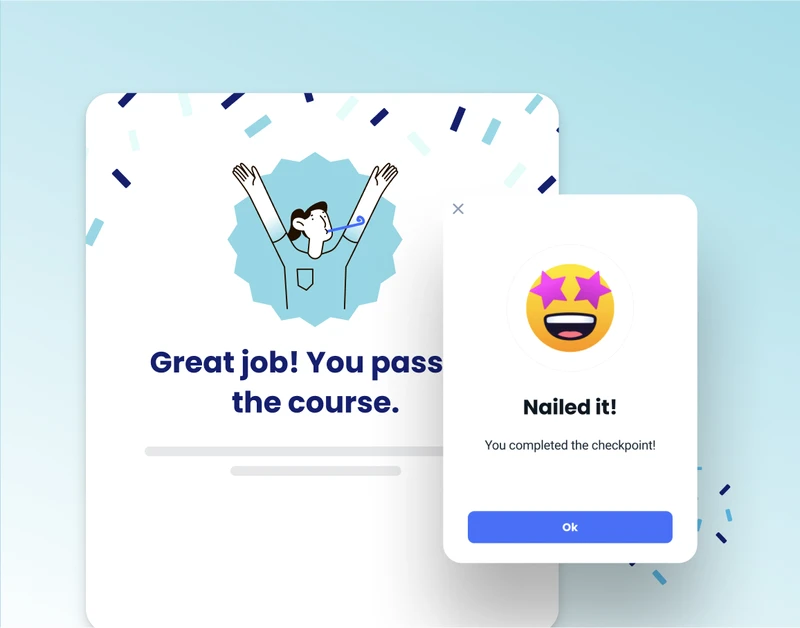 Assessments
Make assessments that really measure knowledge without the hard work with our auto generating quiz builder, assessment module, full grade book, and built-in reports.
Ready Made Templates
Need to get started quickly without reinventing the wheel? Kickstart creation with our fully customizable, ready-to-modify course templates. Designed with speed in mind by our team of learning designers, simply pick a template and start editing to make it your own.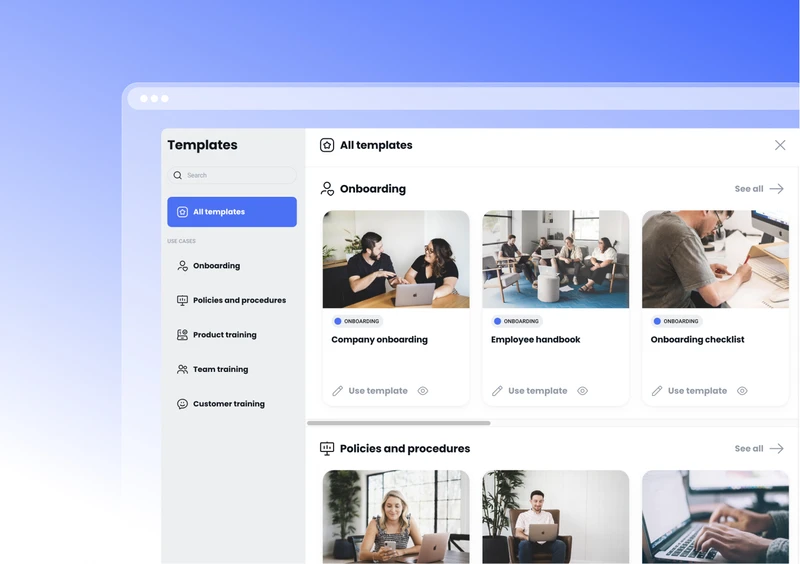 Manage your content
Multiple teams, topics and a growing library of amazing content calls for features that allow you to organize your training for maximum efficiency and effect.
Course Libraries
Centralize all your resources in one place. With unlimited storage, folders for organizing topics or teams, and training archives— managing & editing content is a breeze.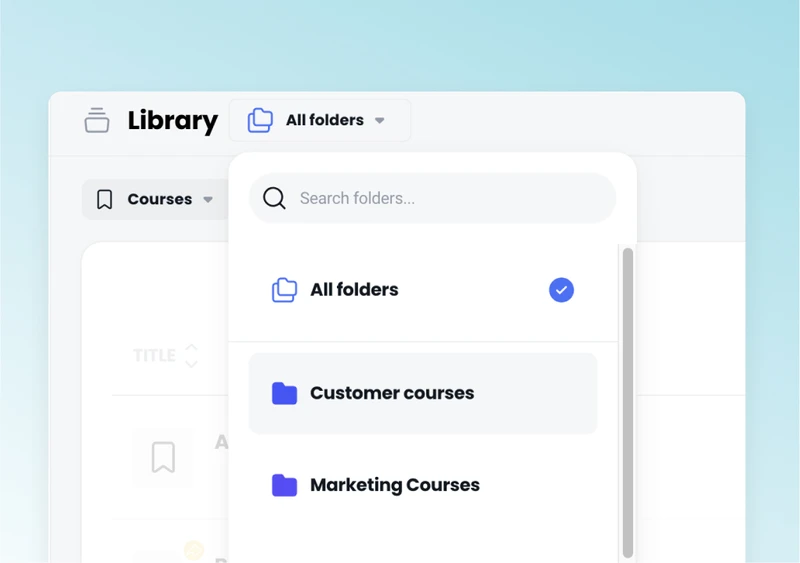 Powerful Permissions
Streamline collaboration. Assign your team & external partners specific roles to control how they can collaborate, divvy up responsibilities, and protect content + data by deciding who gets access to what.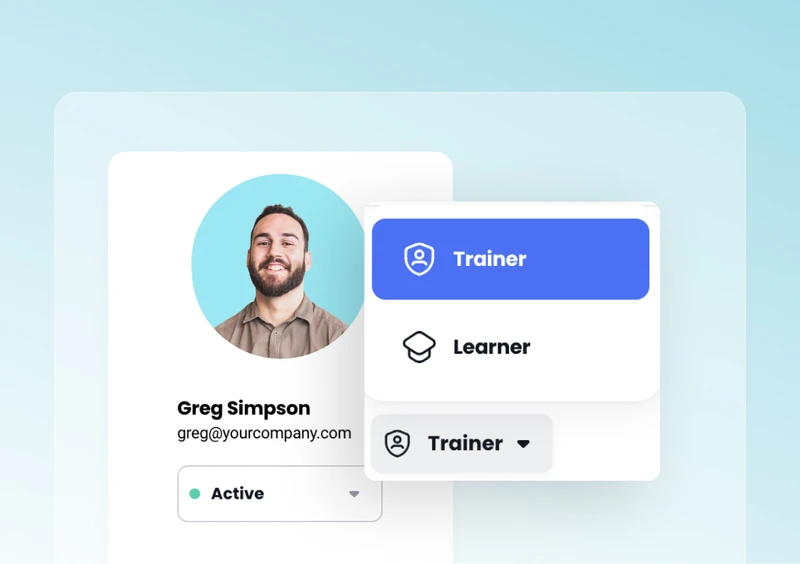 Asset Folders
Organize your content and content creators. Categorize your folders to separate content by topics, teams, and more! Easily manage access and invite others to contribute to specific initiatives.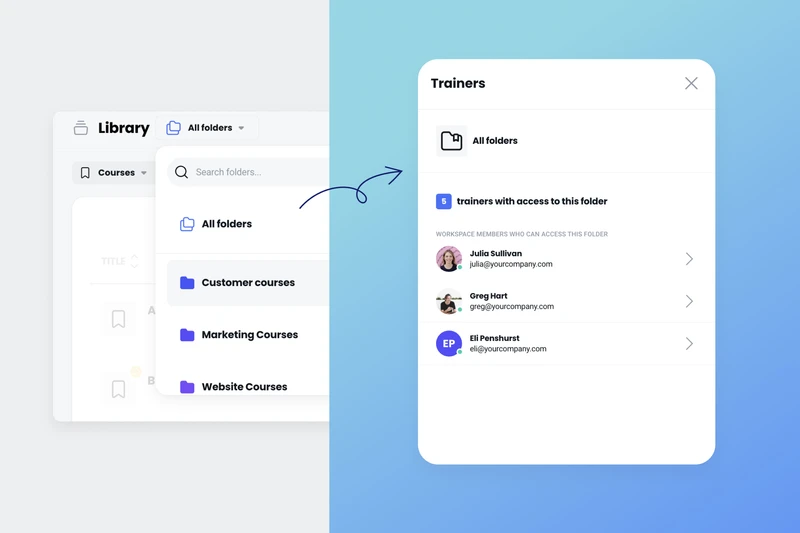 Multi Tennancy
Simple to manage—even at scale. Structure training across separate accounts for different brands, clients, partners, vendors, products or audiences. Manage content, branding, reporting, and users for multiple workspaces from a single Enterprise dashboard.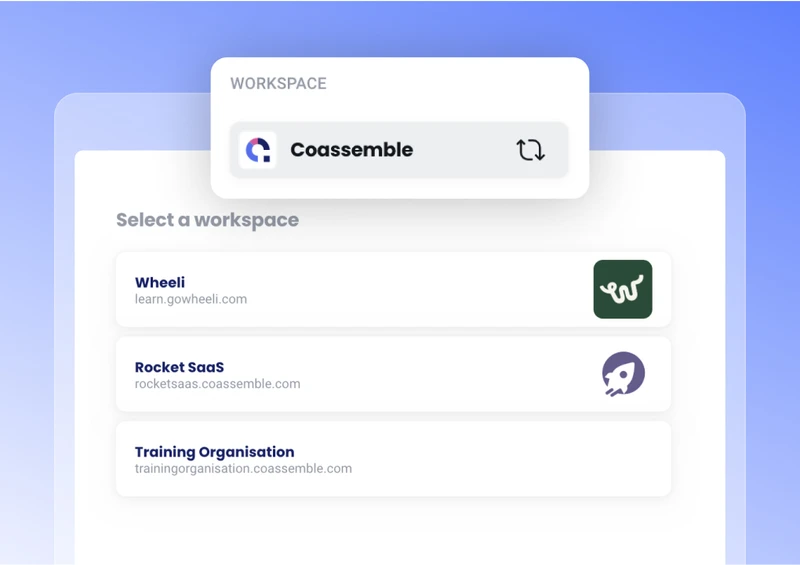 Share your content
Get training in front of your people in the right place, at the right time—whether you're looking to assign mandatory compliance training, automate enrollment flows, or distribute your content on external platforms.
Auto Enrollment
From simple bulk email enrollment to self-serve enrollment links, learners get access to the courses they need fast & simple. Organize people into groups to make distribution even easier.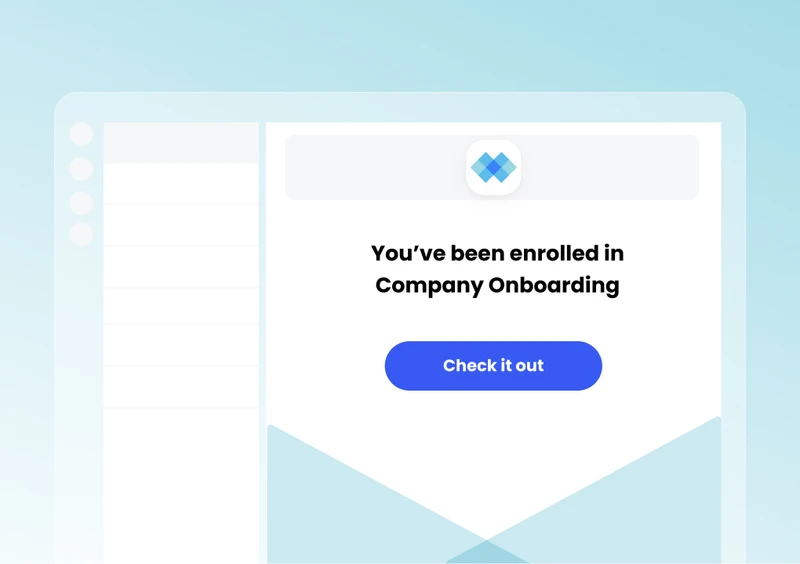 Catalogs
Looking for that self serve Academy or need to distribute a catalog of courses on a topic via your Intranet. With Catalogs, we give you the power of combining your best courses with a simple landing page designer.
Trackable URL's
Train users from within your own platform, store progress, & track results. Seamlessly. These powerful links come with built in tracking that can be read by your own platform or data warehouse. 100% GDPR compliant - you handle user management, we do the rest.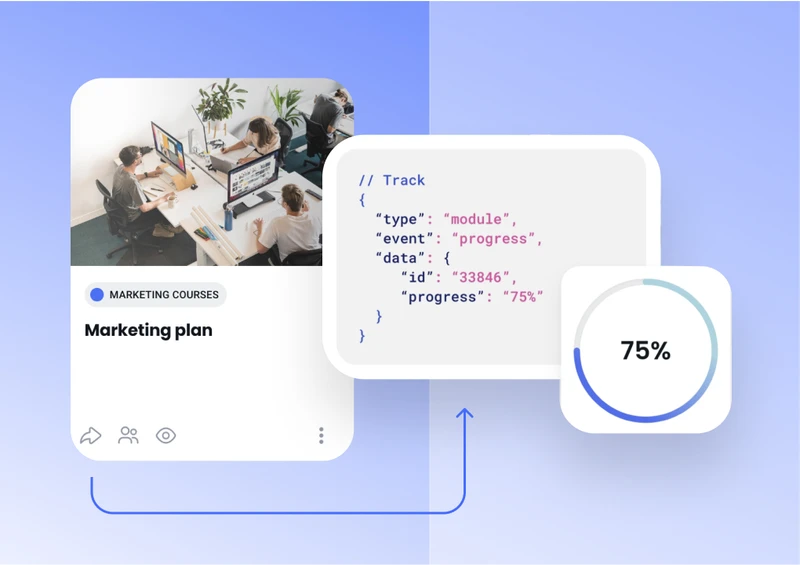 Integrated
Save time & automatically share training based on actions that happen in other business systems—like when a new employee is added into Active Directory, a task is assigned in your HRIS or when a customer buys your course online.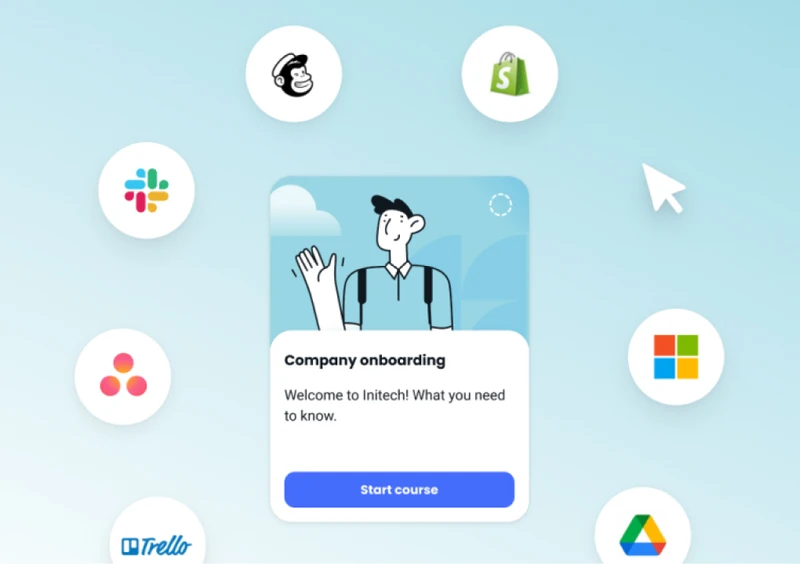 Track your content
Track every step to success with built-in reports and detailed analytics to make sure your training translates into actionable business results. Share insights, track compliance, spot problems early & learn how to fix them.
Learner Progress
Detailed activity tracking means you'll never miss a beat. See status updates, pull training records, monitor completions & gather learner insights in-real time. Discover challenging topics & which areas are slowing people down. Wth screen-by-screen analytics, you can stay agile & make adjustments to improve learning outcomes before the course is even over.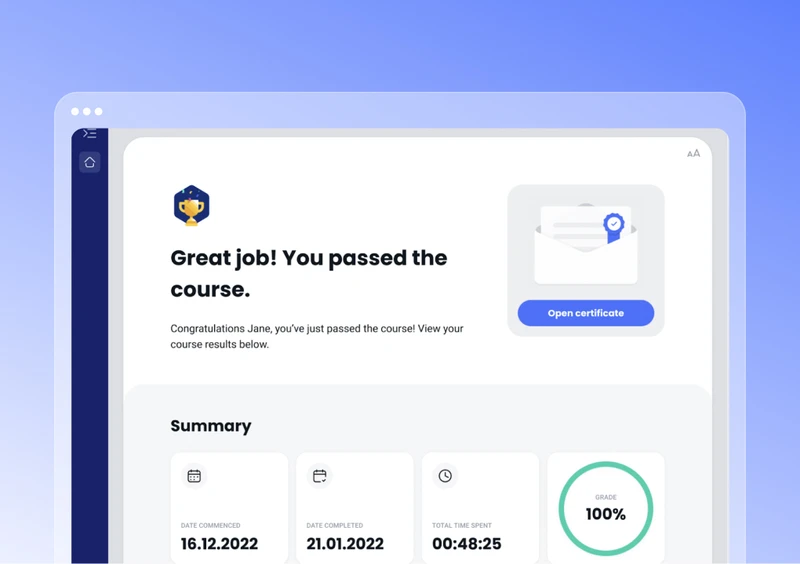 Assessment reports
Monitor performance, pull training history, track compliance, & gauge how well learners are picking up what you're putting down. Breakdown reports by teams, courses, and individual assessment items so you can identify any remaining knowledge gaps & help learners get back on track.
Integrated Data
Send and sync your training data to third party tools, in real time. Send completions, scores, time spent learning and key insights to combine data with other business KPIs or update & trigger workflows in your HRIS, CRM, & more!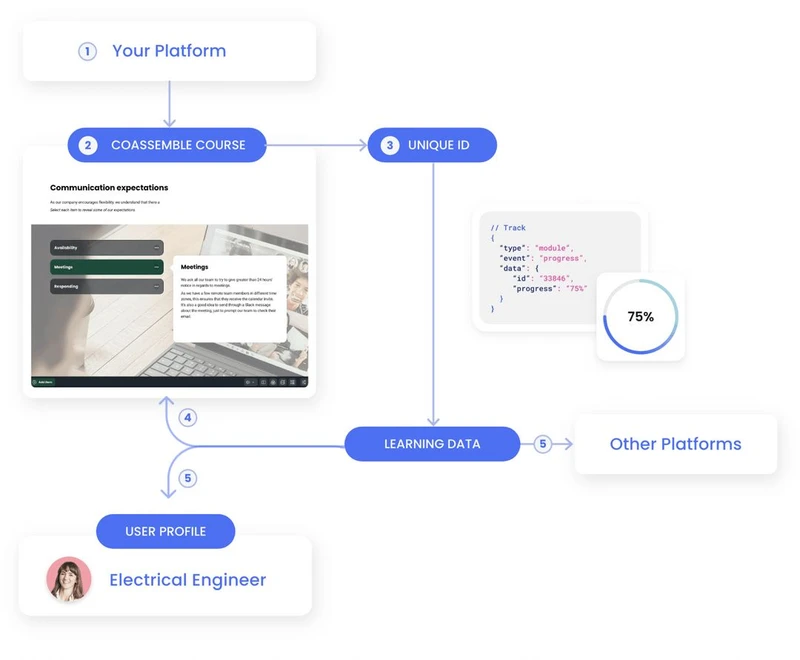 Report dashboard
A birds eye view of all your training data, at a glance. The reports dashboard is your hub for all performance & engagement reports. Dive into analytics at a course, asset, group, or learner level. Easily sort and filter reports then export, save, and share to arm your teams with the insights they need.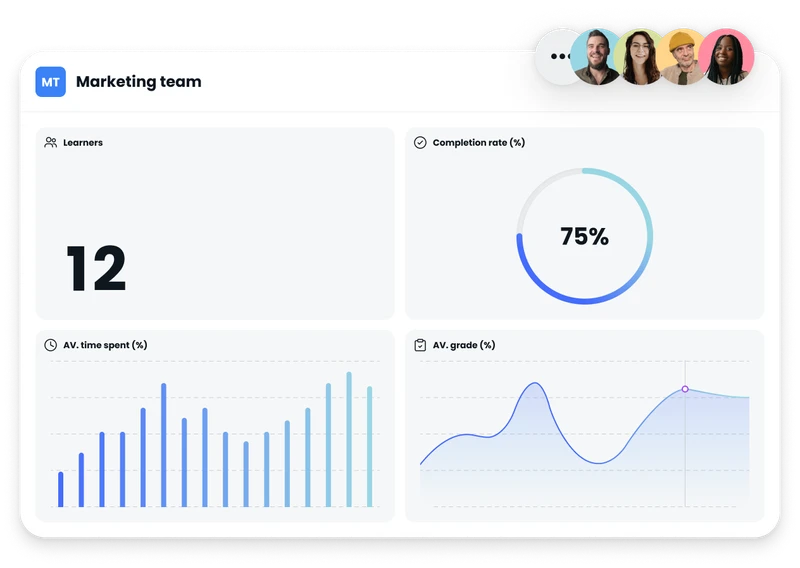 Integrate
Automate workflows, send data, and deliver seamless training experiences by connecting Coassemble with your techstack.
Connect to existing 3rd party tools
Connect Coassemble with the tools you already use in your business to support, automate, and scale workflows. Enroll, invite, sell, notify, embed, sync, report—with our robust API, anything is posssible!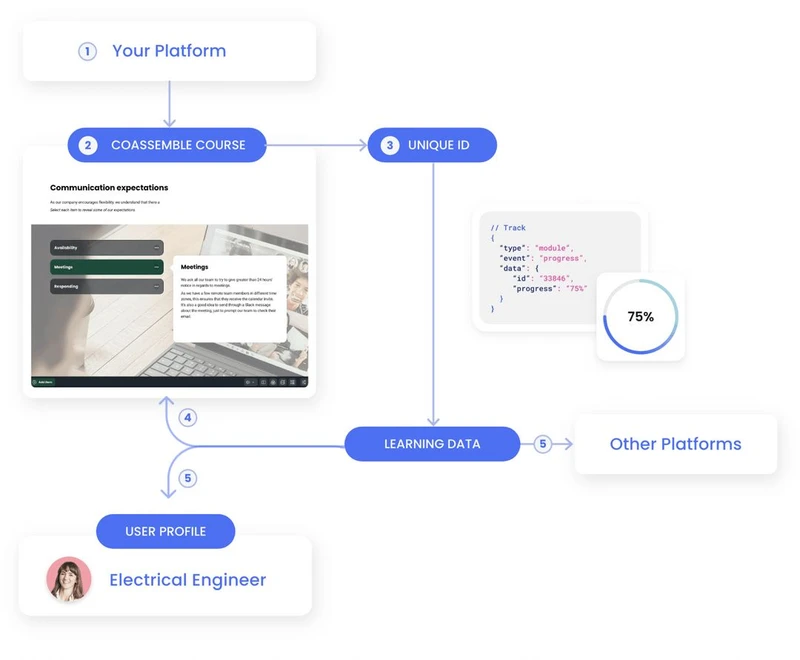 Automate workflows with our API
Save time & streamline when you connect Coassemble with the tools you already use in your business to support, automate, and scale workflows. Enroll, invite, sell, notify, embed, sync, report—with our robust API, anything is posssible!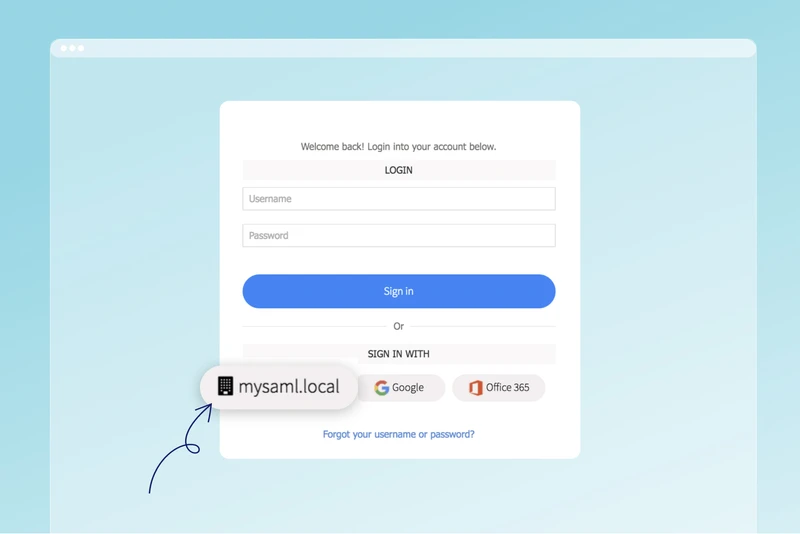 Single-Sign On
Boost security with single-sign on using Azure Active directory, Google, OKTA, OneLogin & any other SAML or oAuth 2.0 based systems. With one less password to remember, learners will waste no time diving into your training.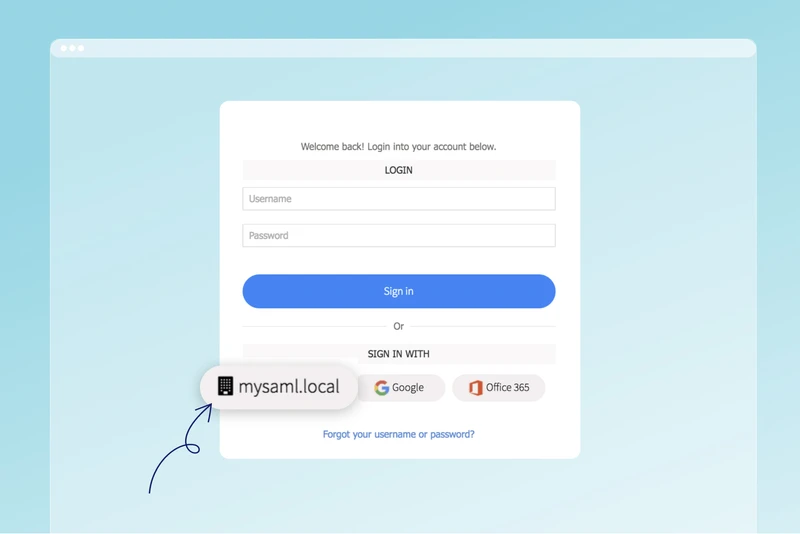 White Label LMS
Remove all traces of Coassemble to create your own custom training hub. Add your branding, customize themes, your domain, notifications & more to make training look & feel like you.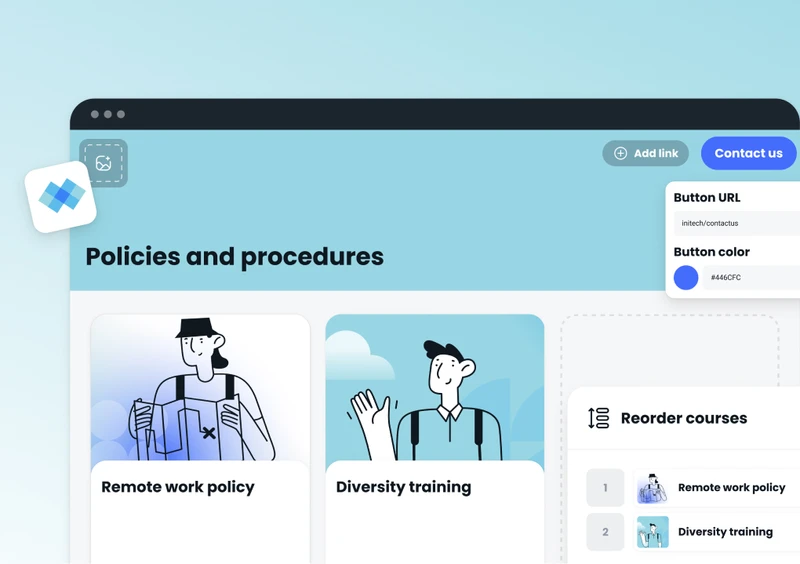 Get Support
Tap into our expert consultancy & award-winning support to supercharge your training. From onboarding training, implementation, and your ongoing success—we're here to help, each step of the way.
Live chat
Get answers from real people—quickly, with priority live chat access to our teams based in the US, Canada, and Australia!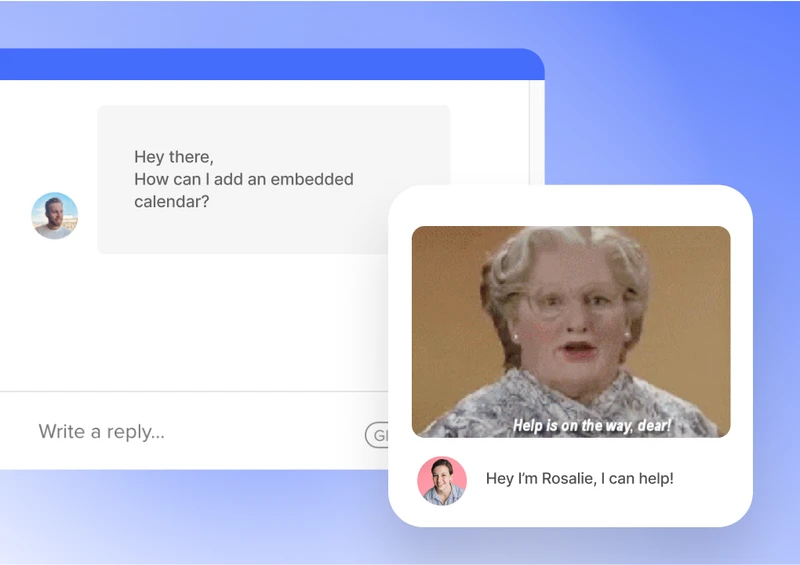 Account Management
Dedicated account managers bring industry + product expertise with a proven track record of successfully launching, supporting and expanding training programs just like yours. We won't just understand your training needs & business goals—we'll show you how to achieve them.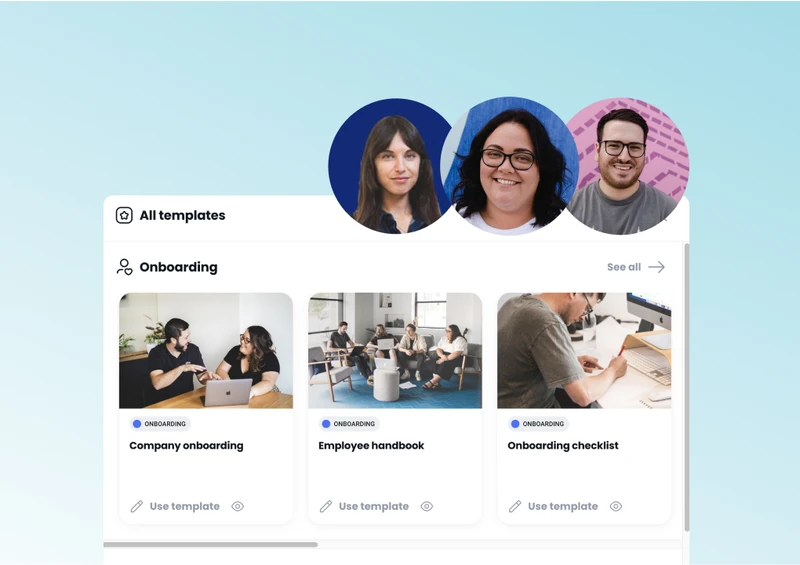 Implementation training
Get up and running even faster. Our team will collaborate with yours to establish goals, create timelines, set up key players & bring your vision to life.
Integration and API guidance
Connect your tools & implement scalable solutions with confidence. Our tech crew will be on standby to assist implementing SSO, webhooks, API requests, importing users & more.
Studio Design Service
Your content, designed by our experts. Our Studio team has built award winning content for some of the world's leading brands & can help transform your content into interactive online learning that looks great, and performs even better.
Course design consultancy
Boost engagement & create captivating content with expert advice from our Studio instructional designers. Get your Coassemble courses reviewed and receive game-changing recommendations to take your training from good to great.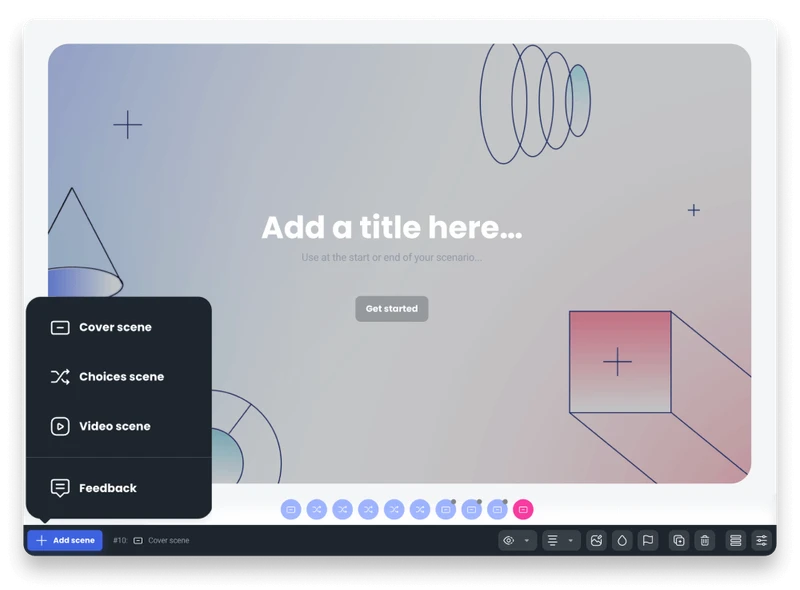 Course conversion services
Transform static, lackluster eLearning content & resources into engaging Coassemble courses. Our studio designers will convert your materials into fully editable and interactive courses that you and your team can update with ease.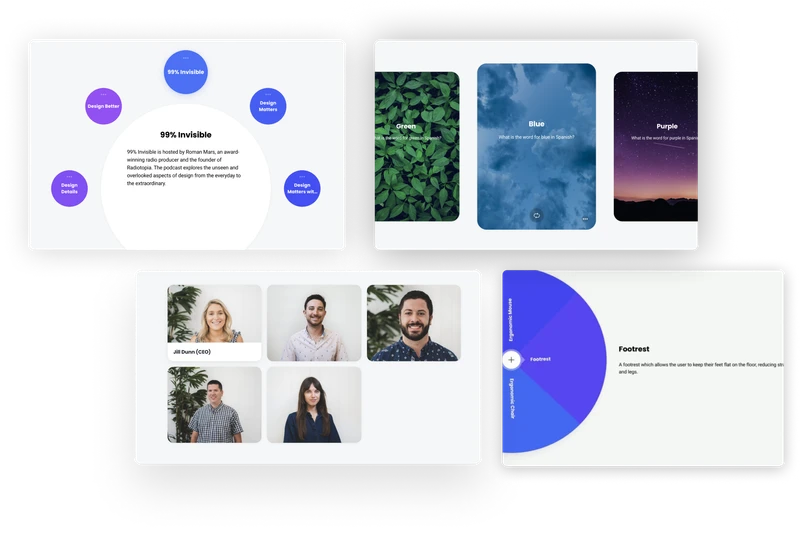 Course polish services
Take your training content to the next level. Create a course & we'll add the final touches, stunning graphics and interactive elements to make sure your content is polished to perfection & ready to make an impact.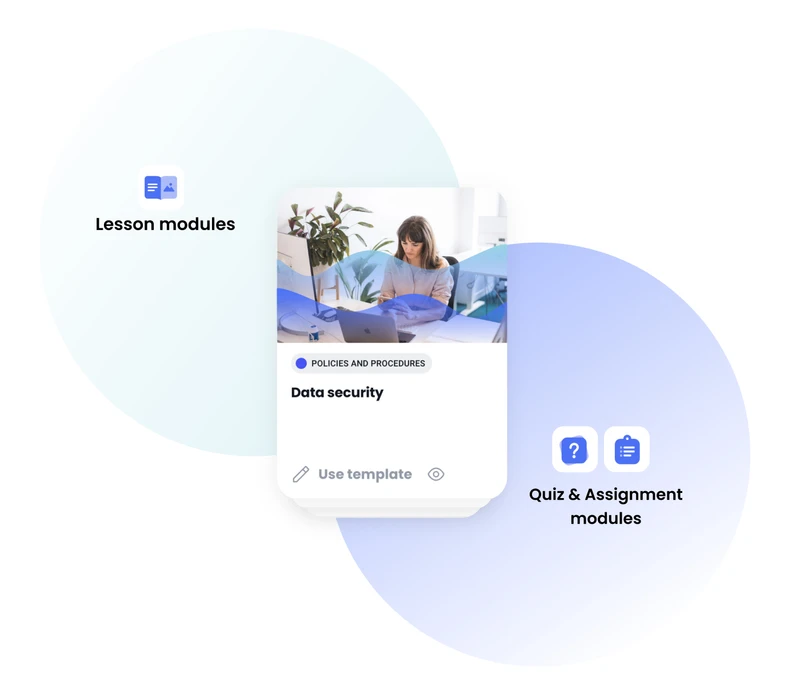 Course library creation
Short on time? Lacking a dedicated resource? Recruit us as part of your training team! Our designers will take the lead and work with you to curate and build out your entire training program from start to finish.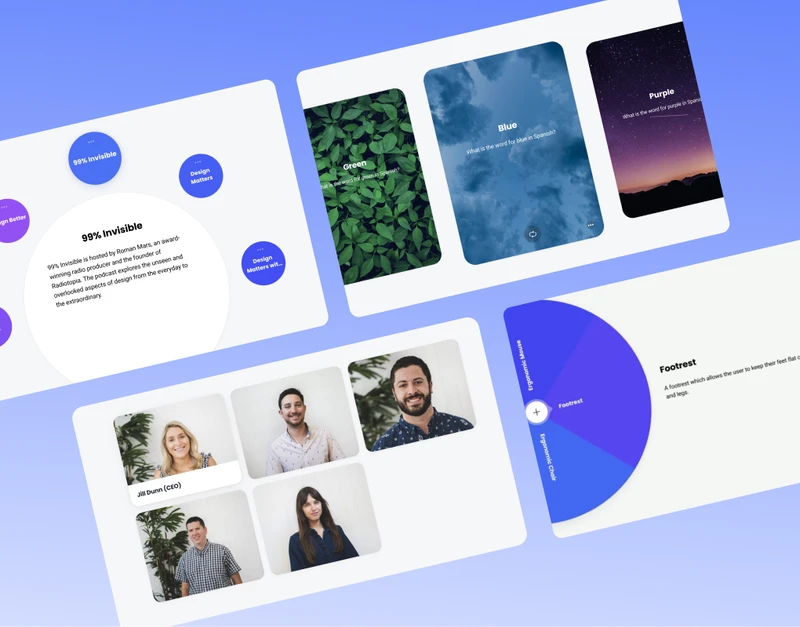 Request a free consult
Talk to an expert about your training needs to learn what Coassemble can do for you! We'll chat through your use case, goals & what pricing works for you based on your needed set of features.